About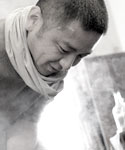 January 1967:
Born in Mie Prefecture, Grew up in Tokyo.
April 1991:
Started working for Wacoal Co., and moved to Kyoto.
1995~
Began relationship with Masahisa Dyeing Factory
July 2000:
Resigned from Wacoal. Started apprenticeship at Masahisa Dyeing Factory. Learned natural dye methods from Mr. Hirota etc.
October 2000:
Assisted Ujyou Maeda's dyeing exhibition. (I was totally blown away by Mr. Maeda's work.)
April 2002:
Completed apprenticeship at Masashisa Dyeing Factory. Became independent dyer.
July 2002:
Tezomeya opens.
April 2009:
Started teaching at Kyoto University of Art and Design.
General Manager
Tomoko Aoki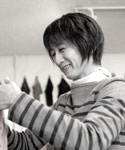 January 1969:
Born and raised in Hyogo Prefecture.
April 1991:
Joined Wacoal.
March 1996:
Resigned from Wacoal. Mother to two sons.
July 2002:
Started working at Tezomeya.